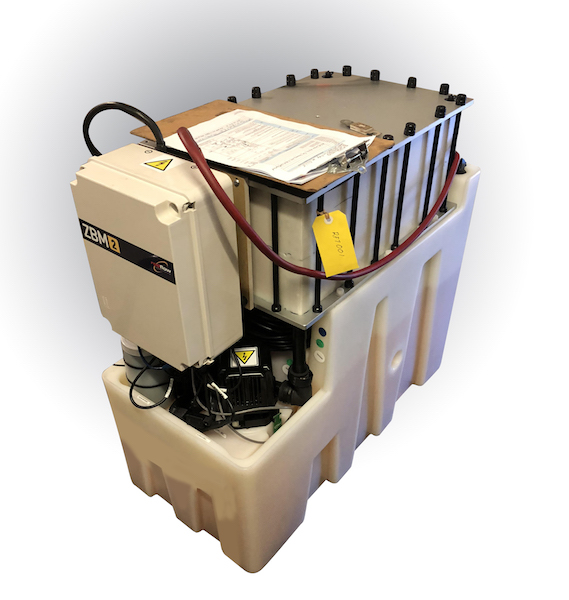 ZBM2 zinc-bromine flow battery with a battery stack made by Redflow factory in ThailandAustralian battery company Redflow Limited (ASX: RFX) has completed the first ZBM2 batteries using battery stacks made by its new Thailand factory, which are now ready for shipment to customers.
The battery stack is the critical part of the Redflow ZBM2 zinc-bromine flow battery, with electrodes that charge the battery by depositing zinc on a membrane and discharge it by reversing that process.
At Redflow's Brisbane headquarters, the Thai-made battery stacks were installed on existing ZBM2 battery 'tank sets' and connected to performance-testing equipment. After passing pre-delivery tests, these complete batteries are now scheduled for delivery to supply existing customer orders. Redflow will continue to assemble, test and deliver limited quantities of ZBM2 batteries with Thai-produced battery stacks until it starts end-to-end manufacturing and testing of complete batteries in Thailand by June.
Redflow CEO Richard Aird said completing ZBM2 batteries with Thai-made battery stacks was an important milestone. "Our first requirement of the new factory is quality components, which it is now producing in the electrode stack - the most complex and critical part of our product," he said.
"Our pre-delivery tests have confirmed that these complete batteries, using Thai-made stacks and existing battery tank sets, perform to standard, so we are now scheduling deliveries to start supplying outstanding back orders."
For media assistance, call John Harris on +61 8 8431 4000 or email john@impress.com.au.
About Redflow www.redflow.com
Redflow's unique zinc-bromine flow batteries are designed for stationary energy storage applications ranging from its ZCell residential battery to its scalable ZBM2 batteries for industrial, commercial, telecommunications and grid-scale deployment. Redflow Limited, a publicly-listed company (ASX: RFX), produces high energy density batteries that are sold, installed and maintained by an international network of system integrators. Redflow batteries offer unique advantages including 100 per cent depth of discharge, tolerance of ambient temperatures as hot as 50 degrees Celsius and sustained energy storage of 10 kilowatt-hours (kWh) throughout their operating life.
Related News
Redflow extends ZCell installer coverage

Redflow CEO Simon Hackett with the ZCell battery enclosureAustralian battery company Redflow Limited today announces seven more approved installers for its new ZCell energy storage...
QLD home sets Redflow residential record

Redflow's largest residential install - six ZCells in Queensland A Queensland family has chosen ZCell batteries to guarantee that their new home has electricity without any power ...