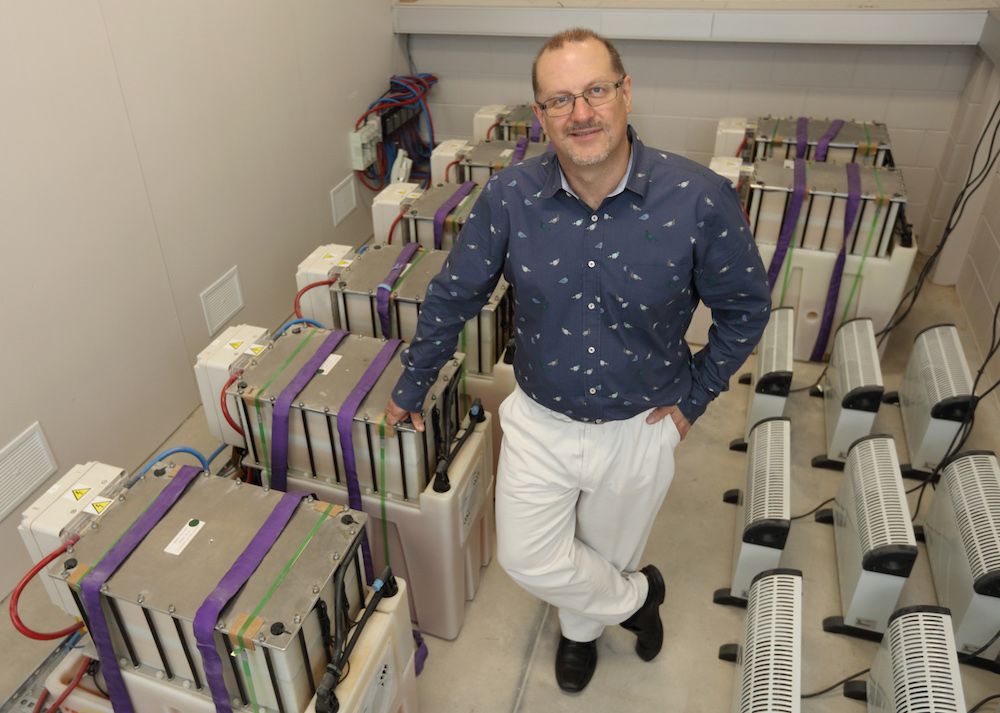 Australian battery manufacturer Redflow Ltd has established a battery laboratory in Adelaide to assist with its software development and to certify its zinc bromide flow batteries with multiple inverters.
While ASX-listed Redflow (ASX:RFX) has its core R&D facilities in Brisbane, the Kent Town-based lab provides important support for the launch of the company's residential battery. Last month, Redflow announced that it will launch its residential battery before the end of March with commercial installations scheduled to occur from June this year.
Redflow also reported it had completed an oversubscribed capital raising of $7.36 million and concurrently launched a $5.56 million entitlements offer. These funds will provide extra working capital for its residential battery rollout and to continue developing a new higher energy battery.
Redflow Executive Chairman Simon Hackett, who is developing Battery Management System (BMS) software for Redflow's residential battery, has established the battery lab.
Redflow, also a sponsor of WOMADelaide 2016, is using the lab to ensure that its batteries work well with inverters from a range of manufacturers, aiming to simplify the deployment process for installers.
Simon Hackett said Adelaide was an ideal place for the battery lab. "SA is at the leading edge of the renewables revolution through its solar panel uptake and wind power generation capacity," he said.
"The obvious next step is to embrace batteries for energy storage - in homes, businesses and indeed the entire electricity grid - to allow us to 'time shift' renewable energy from when it's generated to when it's needed.
"Redflow's battery lab in Adelaide focuses on delivery, demonstration and training rather than development, which will expedite supplying the huge demand for batteries that is expected in Australia during the next few years."
Recent research from US-based IHS Technology states that Australia's energy storage market will grow from less than 500 battery installations in 2015 to more than 5000 systems in 2016, as households seek to use energy storage to avoid increasing electricity costs.
This will make Australia one of the top five global markets for energy storage in 2016, after the US, Japan, Germany and the UK. IHS predicts that between 2016 and 2018, Australia's residential and commercial energy storage demand will double each year, leading to as many as 30,000 Australian households having solar photovoltaic energy storage systems by 2018.
Simon Hackett said that widespread dispersion of residential energy storage, coupled with grid-scale storage, would transform how the electricity network operated. "At the moment, the network spins up gas-fired generators to meet brief energy demand peaks," he said.
"In future, batteries will replace the need for those peaking generators with a much smoother way to accommodate spikes in demand. With its high renewables ratio, SA is ideally placed to leverage energy storage.
"We look forward to our battery lab playing a valuable role in the process of ensuring Redflow batteries work seamlessly in home and business settings. This is an ideal complement to Redflow's Large Scale Battery (LSB) to be installed at Base64 this month, as a real-world demonstration of the effective grid-scale energy storage capabilities that Redflow also has to offer."
For media assistance, call John Harris on 08 8431 4000 or email john@impress.com.au. To download high resolution images, visit our Redflow photo gallery page.
About Redflow
Redflow is an energy storage specialist that has developed the world's smallest flow batteries. Redflow's Zinc-Bromide Module (ZBM) flow batteries are designed for a variety of power storage applications from residential, commercial and telecommunications to grid-scale deployments by utilities. Redflow is a publicly listed company (ASX:RFX) that operates R&D facilities in Australia, as well as offices in the US and Europe. Produced in North America by Flex, one of the world's largest manufacturing companies, Redflow's high energy density batteries are sold, installed and maintained by a global network of system integrators. For more about Redflow, visit www.redflow.com.
Related News
Mossel Bay goes carbon neutral with Redflow

Redflow Global Sales Director Andrew KempsterMossel Bay Municipality in the Southern Cape province of South Africa has eliminated the carbon footprint of its Technical Services Dep...
Redflow board pleased by Thai factory progress

Redflow stack line at new factory in ThailandThe board of Australian battery company Redflow Limited has commended the successful commissioning of the company's new factory in Thai...
Redflow extends battery warranty to 10 years

Australian energy storage specialist Redflow Limited today announces that it has extended the warranty for its 10 kilowatt hour (kWh) ZBM2 and ZCell zinc-bromine flow batteries to ...