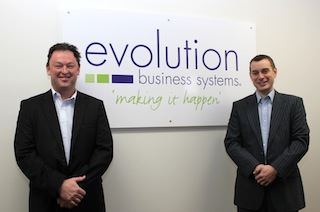 Business management solution specialist Evolution Business Systems (EBS) has moved its head office to larger premises in the Melbourne suburb of Heidelberg to meet increased demand for its services.
Opposite the Warringal Hub Shopping Centre, the new EBS office, at Suite 3, 47 Burgundy Street, Heidelberg, comprises nearly 240 square metres of flexible floor space located in a contemporary office building, providing a great springboard for the future growth of the business.?
EBS, which is a Microsoft Dynamics NAV partner as well as an accredited Arrow Business Partner, has nearly doubled its employee headcount in the past six years, since it moved into its former Ascot Vale premises. The company has more than doubled its revenues during that period.?
While at Ascot Vale, EBS milestones included receiving the Australian Achiever Award "Excellence in Customer Service" in both 2010 and 2011 and winning Arrow Research Corporation 'Business Partner of the Year Award' in 2009. The privately-owned company also achieved Microsoft Silver Certified Partner status.
?EBS supports a broad range of customers, from not-for-profit organisatons such as Centacare Ballarat & Melba Support Services and fast-growing businesses such as Entity Solutions to ASX-listed companies like Circadian Technologies and Greencap. The company, which celebrated its 10th birthday last year, has also expanded its original Melbourne presence to support customers in Sydney, Adelaide and across the ditch in New Zealand.?
EBS founder and managing director Paul Woods said demand for Microsoft Dynamics NAV had driven the company's growth during the past couple of years. "The biggest change is the increased maturity of the business," he said.
"As well as more employees, we have developed more specialised areas of responsibility, including a dedicated help desk and marketing. We've also become a much more international organisation with staff from Australia, New Zealand, England, France and South Africa."
?More about Evolution Business Systems?
Evolution Business Systems (EBS) specialises in business management solutions that give you the freedom to focus on your business. EBS does this by automating your core business processes and integrating your specialist business applications to deliver the right financial management solution. With deep expertise in leading financial applications including Arrow Financials and Microsoft Dynamics™ NAV, EBS works beside clients to ensure their software solves problems rather than creating more. EBS has a detailed implementation strategy that is tailored to customers in terms of timelines, requirements, risks and responsibilities as well as project variations and external requirements. While it does not sell or support hardware or site network environments, EBS informally partners with selected specialists in these areas to provide clients with a "total solution".
'?Evolution Business Systems Pty Ltd?
PO Box 1115, Camberwell, VIC 3124
?p 1300 303 973
f 1300 858 973
?e info@ebsys.com.au?
w http://www.ebsys.com.au
Related News
Lord Mayor's Charitable Foundation chooses EBS

One of Australia's leading philanthropic organisations, the Lord Mayor's Charitable Foundation in Melbourne, will strengthen controls and improve reporting on grants by deploying M...
EBS wins Australian Drug Foundation with NAV

Enterprise Resource Planning (ERP) software specialist EBS (Evolution Business Systems) has strengthened its success in the Not For Profit sector by winning Australian Drug Foundat...