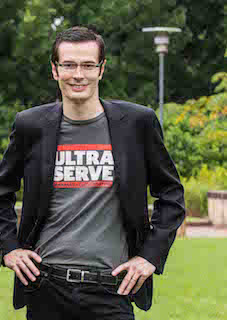 Managed cloud services company UltraServe expects faster local and global growth after becoming a managed public cloud provider for hybris software, the world's fastest-growing commerce platform provider.
Sydney-based UltraServe is an Infrastructure and Platform as a Service provider within the hybris Extend program, the online marketplace that makes it easy for hybris clients to select quality solutions. Hybris is an SAP company.
UltraServe CEO and founder Samuel Yeats said the hybris Extend listing was part of the company's international outreach. "Recently, we've signed up new customers in New Zealand and London, so hybris Extend is a key part of our strategy to get greater traction in the rest of Europe, the Americas and of course, continue to expand our footprint into Asia," he said.
"Our self-developed hybris platform offering, SmartStack, provides customers with a highly flexible and robust capability to get the most out their hybris investment. We've built this cloud platform to address the challenges of delivering enterprise commerce in the cloud. Being part of the Extend marketplace strongly validates our capability and allows us to service even more customers. While it's difficult to put a number around that, we expect to at least double our current growth rate."
As it builds an environment, UltraServe performs continual load, security and penetration testing to give iterative feedback along the way, so code is tested and battle-hardened before it gets to the production environment. It helps the integrator right size the service to give the customer the most robust and cost effective solution.
"After go-live, we go a step further by proactively monitoring and managing not only the infrastructure and operating system, but the actual application itself," said Samuel.
"If an issue arises, we identify the problem with the integrator and manage the issue through to resolution so the customer gets the best possible service and outcome."
About UltraServe
UltraServe began its operations in 2000 and has developed to become a market leader in the cloud and managed hosting services industry. In 2009, UltraServe was the first company to launch a true Infrastructure as a Service (IaaS) cloud computing product in Australia – a testament to its company vision of being industry innovators. UltraServe has continued to broaden its business model through key channel partner relationships such as Amazon Web Services and hybris, an SAP company, which will continue to shape the direction of the business moving forward. For more information, visit www.ultraserve.com.
About hybris software
hybris software, an SAP Company, helps businesses around the globe sell more goods, services and digital content through every touchpoint, channel and device. hybris delivers OmniCommerce™: state-of-the-art master data management for commerce and unified commerce processes that give a business a single view of its customers, products and orders, and its customers a single view of the business. hybris' omni-channel software is built on a single platform, based on open standards, that is agile to support limitless innovation, efficient to drive the best TCO, and scalable and extensible to be the last commerce platform companies will ever need. The same software is available on-premise, on-demand and managed hosted, giving merchants of all sizes maximum flexibility. Over 500 companies have chosen hybris, including global B2B sites W.W.Grainger, Rexel, General Electric, Thomson Reuters and 3M as well as consumer brands Toys"R"Us UK, Metro, Bridgestone, Levi's, Nikon, Galeries Lafayette, Migros, Nespresso and Lufthansa. hybris is the future of commerce™. For more information, visit www.hybris.com