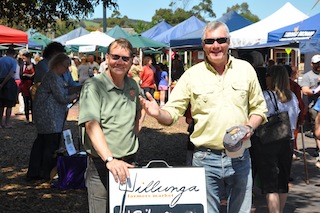 Willunga Farmers Market is introducing the Young Farmers Scholarship, a $10,000 scholarship open to 18 to 35 year olds interested in farming but discouraged by the obstacles of entering the industry, like access to land, equipment and start up capital.
The scholarship will provide $3,000 worth of small business and agricultural training together with a cash component of $7,000 which will be made available for items such as seeds, tools, land rental and insurance.
"The passion for farm direct produce and the growing number of farmers markets in South Australia is encouraging, but the number of active farmers is steadily declining,' said WFM Market Manager Steve Ashley.
"Farmers only represent 1.7% of all employed people in 2010-2011 according to the Australian Bureau of Statistics. Not only has this figure fallen by 2.9% since 1996-1997, but currently 23 per cent of farmers are over the average retirement age of 65.
"That's almost one quarter of all our food producers. We need to continue encouraging our young people to become involved in this industry as a matter of urgency.
"Our aim is to ensure the next generation of Australia's farmers have access to the support they need to enter and create a long, viable career out of farming. We as consumers can also continue to support their community and buy locally produced foods in the years to come."
Over 12 months the scholarship will provide the successful recipient with:
$7,000 start up capital to grow primary produce on the Fleurieu Peninsula
Three training sessions each in small business management and farming practices
A guaranteed licence to trade and weekly stall site at Willunga Farmers Market to supply primary produce for two years, with the first six months stall site free of charge
Assistance in locating possible land on which to farm on the Fleurieu Peninsula, if necessary.
'Willunga Farmers Market is guaranteeing the future of farming on the Fleurieu Peninsula in the same spirit of innovation that has positioned us as SA's first and premier farmers market,' said Steve.
More details at http://willungafarmersmarket.com.au/.
Related News
Impress relaunches website with Joomla 1.5

Impress Media Australia has refreshed the underlying infrastructure of its website by upgrading to the Joomla 1.5 content management system. As well as improved security, Joomla 1....
Gordon Wagner breaks the psychologist mould

Clients don't view Gordon Wagner as a typical psychologist. Rather than just a source of professional advice, they see Gordon as a guide for whom authenticity is the essential ing...
OZ Odyssey unleashes The Beast on Outback

Struggling cars on a 3200 fundraising odyssey for The Royal Flying Doctor service now have a secret weapon called The Beast – a purpose-built 10-tonne rescue truck to haul them out...