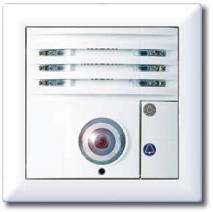 Impress Media has installed an IP-enabled video door camera at its Norwood premises that lets you see and talk with visitors to the office – even if you're not there!
Ideal for those times when you're running late, the Mobotix door camera contains a built-in microphone that allows real-time two communications with anyone who rings the door.
Supplied by Vision Security Services, the Mobotix IP door camera can communicate with an iPhone, iPad or Android phone via the QCam Pro smartphone app.
As well as allowing two-way conversations, QCam Pro proactively issues alerts on the smartphone screens whenever the Mobotix door bell is pushed.
Impress Media managing director John Harris said the new camera had improved security. "As well as letting us know who's at the door, the camera actually senses and records any movement even, effectively monitoring the main door to the office at any hour," he said.
For more information about QCam Pro and the Mobotix IP Video Door camera, visit http://www.visionss.com.au/
Related News
Impress sees the light with LEDs

Impress Media Australia has slashed more than $500 from its annual power bill by replacing 80 fluorescent globes and tubes with LED (Light-Emitting Diode) lighting at its office. ...
So long and thanks for all the fish!

I write with a sad heart that today is my last day as a flack for iiNet, a joyride that started nearly 15 years ago when I began helping Simon Hackett tell the story of Internode's...
Impress Media celebrates its 20th birthday

Impress Media passes a major milestone today – May 27 marks the 20th anniversary of John Harris registering South Australia's first PR agency to specialise in IT. Back in May 1991,...