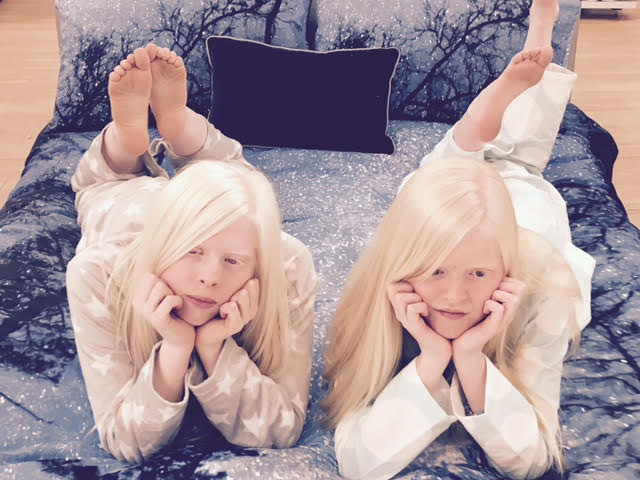 Sammy McCombe and Lucy Carpenter
An initiative to highlight the achievements of people with albinism will tomorrow reach out through communities nation-wide as Australians celebrate the third World Albinism Awareness Day.
With a frequency of one in 17,000, more than 1300 Australians are affected by albinism, a genetic condition that arises from a lack of pigment in the skin, hair and eyes, typically causing pale skin, white hair and poor eyesight, often in the range of legal blindness.
Tomorrow, throughout Australia, children with albinism and their parents will use World Albinism Awareness Day to share with classmates their experiences of the world, why they avoid the sun and the challenges of limited vision.
Australians with albinism work in a wide range of professions, with members of the community including a State MP, a doctor, business owners, a professional singer and an astronomer.
In Geelong, two schoolgirls born with oculocutaneous albinism, Sammy McCombe, 12, and Lucy Carpenter, 14, recently launched an Instagram account to use fashion to raise awareness of the condition. The duo use it to model the latest clothing to show people that different is beautiful. Their Instagram account @Lucy_and_sammy has already attracted more than 4000 followers! "I have been very surprised at how many people loved our photos and gave us great feedback," revealed Sammy (above, right).
Other Australians with albinism include a nurse who has travelled to the Himalayas and snowboarding lawyer with a passion for travel.
World Albinism Awareness Day - celebrated globally on Tuesday, June 13 - will act as a curtain-raiser for this year's national conference on albinism, which runs in Melbourne from August 18-20. With the theme Celebrating Albinism, the two-day conference will cover subjects ranging from raising children with albinism to using the latest technology to achieve success in the workplace.
Conference organiser Sandy George said the key to the albinism community was its diversity. "Although many people with albinism have fair hair and wear glasses, they are all part of an incredibly diverse community," she said.
"Both World Albinism Awareness Day and our conference in August are about celebrating how rich and varied are the achievements of people with albinism, which is an incredibly encouraging and hopeful message for the current generation of kids with albinism, as well as their parents."
A keynote speaker for the conference Karen Wolffe from Austin Texas will challenge conventional thinking on successful workplace participation and raising children's expectations on work. Ophthalmologist Dr Wendy Marshman will speak about the latest in surgery and other options for both children and adults while Andrew Fuller will use humour to explore how to remain resilient through the transitions of life.
For media assistance or interviews, call John Harris on 08 8431 4000 or email john@impress.com.au. About Melbourne Conference 2017, email Sandy George at conference2017@albinismaustralia.org or visit http://albinismaustralia.org/melbourne-conference-2017/.
Albinism Fellowship of Australia http://albinismaustralia.org/
The Albinism Fellowship of Australia (AFA) is a national, non-profit organisation established in 2005. Volunteers who each have been personally touched by albinism in some way run the fellowship. The AFA's key purpose is to provide support, education and fellowship to those with albinism, parents of children with albinism as well as their families and friends. While the albinism community in Australia is only small, the AFA provides a united voice to encourage productive developments and support within business, government and media.
Related News
Australians gather to throw light on albinism

As an international campaign to protect people with albinism gains steam, Australians affected by the genetic condition will gather to celebrate International Albinism Awareness Da...