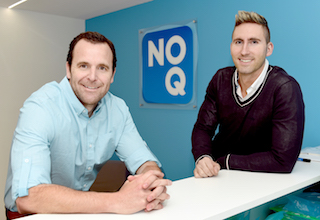 Australian e-commerce company NoQ has delivered an online bonus for dozens of independent supermarkets Australia-wide that are defending their businesses from attack by the grocery giants.
During the past two years, NoQ (no queue) has sold its easy-to-use online ordering system to more than 70 supermarkets from WA to Tasmania, helping them win new business at a lower cost.
NoQ founder Brad Moran said online sales were vital for the survival of independent supermarkets. "Our customers show that you can make money online if you do it well," he said.
"The great discovery for independent retailers is that buying behaviours are different online. Customers tend to order their full weekly shop online rather than bits and pieces, so they spend much more. Instead of being a secondary shopping location, they become the customer's primary store.
"That's the value proposition of NoQ to independent supermarkets."
NoQ was launched in September 2011 as an easy to use and affordable system that equips retailers to accept pre-orders and payments placed by customers with a smartphone. The company has since grown strongly, currently employing 25 people at its Adelaide head office to service clients nationally.
NoQ was founded by Brad Moran, a former AFL ruckman with the Adelaide Crows. Its chairman is Raymond Spencer, an internationally successful businessman who since returning to his hometown of Adelaide in 2009 has served as Chairman of the South Australian Economic Development Board. In 2012, Bendigo and Adelaide Bank bought a strategic equity stake in NoQ.
Since launching its first version into the fast food and coffee markets, NoQ has redeveloped its entire e-commerce platform to meet the needs of retailers such as independent supermarkets.
One successful customer, Co-op Fresh Foodland at Nuriootpa, which has sold online for the past three years, reports that its online sales grew by 10 per cent in the four weeks after it deployed NoQ.
The Co-op's Information Services Manager Rob Zander said NoQ had also extended the supermarket's sales reach, with deliveries to as far away as Clare and Blanchetown. "We've had really positive feedback from customers, who like the new website and find it easy to use," he said.
"We're also using the NoQ iPad picking app, which we've found has provided greater efficiencies. It's helping us pick quicker so, as a result, we can do more orders in a day. NoQ's service has been really good. The Co-op is about building partnerships with our suppliers. What we like about NoQ is that it has a similar culture and is open to our suggestions about how to develop its product further."
Another NoQ success is the St Helens Supa IGA in north east Tasmania which has acquired dozens of new customers since it began selling online with NoQ. Store owner Kemuel Wood said NoQ online sales provided his customers with an extra level of service. "NoQ, both as a service and a company, is fantastic," he said.
"During the past year, 80 per cent of our online customers have been new to us, so NoQ is terrific at extending the reach of our business. Our online business now delivers groceries to customers who live 150-160 kilometres away.
"It's a profitable business: For example, our average basket this month was $194.96 online compared to $37.60 in store, Also, eight of our 10 best-selling products are fresh products, which is not the case with online sales by the big chains, so we're building up a relationship of trust with our customers."
Mr. Moran said NoQ was not satisfied with that success. "We've spent more than $3 million to completely re-engineer the entire system to become a totally scalable SaaS platform that sets us apart from the competition," he said.
"Independent retailers require more than just an e-commerce store to succeed online: They need a system that is embedded in the way they operate. For example, our iPad fulfilment application reduces the cost of picking orders from an hour to just 20 minutes, which makes it more profitable for stores to sell online.
"Reducing that cost removes a barrier to entry for independents to get online. That's one of our key differentiators, which is why we've got a lot of adoption in this market.
"We're now integrating NoQ with Bluetooth beacons around the store, so we know where each of the products is located, allowing us to map the store out much quicker. It's all about efficiency."
For media assistance, call John Harris on 08 8431 4000 or email john@impress.com.au.
About NoQ www.noq.com.au
NoQ is a digital e-commerce platform that provides a fully integrated payment system for mobile and online orders. As well as making online and mobile purchases easy, NoQ provides its merchants with detailed business intelligence about the demographics and buying habits of their customers.
Related News
NoQ goes global as merchant numbers double

Australia's leading online and mobile payment platform NoQ, which has doubled its merchant numbers in the past three months, today announces that merchants will soon start using it...