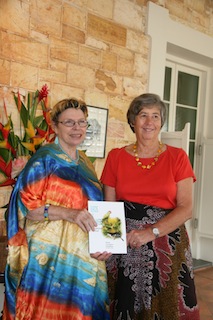 Variously described as an "NT Treasure" and a "ratbag of the north", eco-tour guide, passionate birder and former buffalo hunter Denise Lawungkurr Goodfellow has published a new book about birds of the Top End.
NT Administrator the Hon. Sally Thomas launched Denise' latest book, Birds of Palmerston in Australia's Top End, at Darwin's Government House earlier this month.
Co-written by Denise and her partner Michael Stott, the beautifully illustrated 52-page book is rich with ornithological descriptions, leavened by wonderful anecdotes from Denise's four decades in the Top End.
In her forward to the book, the Hon. Sally Thomas describes Denise as "a Northern Territory treasure…who has worked as a biological consultant, conducted countless bird guiding tours for domestic as well as overseas visitors and has an incredible knowledge of the flora and fauna that we all enjoy in this part of the world".
While the "ratbag of the north" tag came from someone less enamoured of Denise's work, she now bears it with pride.
Denise's middle name 'Lawungkurr' belongs to a Dreamtime woman still respected for her mediation skills. Denise was given the name by elders in western Arnhem Land in recognition of her efforts to halt abuse of the area's indigenous Kunwinjku people.
In addition to her eco-tourism and birding activities, Denise has been adopted into an Aboriginal Bininj (clan), giving her remarkable access and insight into the lives and challenges of indigenous communities in Northern Australia.
Birds of Palmerston in Australia's Top End is published by Scrubfowl Press. More information about the work and world of Denise Lawungkurr Goodfellow is available from her website at http://www.denisegoodfellow.com.au/.