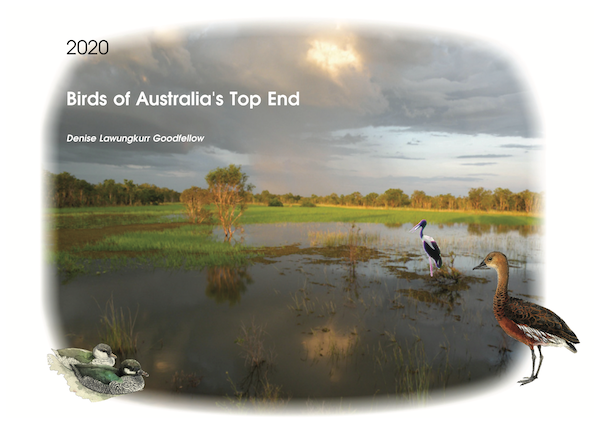 A calendar depicting Australian birds from which are endangered by increasingly ferocious bushfires is helping to raise funds to support a volunteer brigade which battles these blazes near Darwin River.
Designed by bird photographer and ecotourism expert Denise Lawungkurr Goodfellow, the Birds of Australia's Top End 2020 calendar contains pictures of birds including the Crimson Finch, the Partridge Pidgeon, the Varied Lorikeet, the Little Kingfisher and the Red-backed Fairy Wren.
Most disturbingly, the penultimate page of the calendar contains photographs of gamba grass - an African grass introduced to Australia as cattle feed - and a ferocious fire fuelled by this invasive grass. All profits raised from sales of the calendar will go to support the work of the Darwin River Volunteer Bushfire Brigade, of which Denise and her husband Michael are both members.
Denise Goodfellow has a long history of promoting environmentally sensitive tourism to the NT. This includes her role as a founding member of Ecotourism Australia, receiving nomination by Earthfoot for Condé Nast's International Ecotourism Award in 2004 and winning the Individual Champion Award, Natural Resource Management, Northern Territory in 2016.
Christine Gee, the widow of the late novelist Bryce Courtney, describes the 2020 Birds of Australia's Top End Calendar as "quite simply breathtaking". "(It is) a beautifully curated and designed collection celebrating the precious birdlife of the NT and a tribute to Denise's lifelong passion for preserving the birds' habitat and engaging communities to participate," she wrote.
"I applaud donating all profits from the sale of these stunning calendars in support of the courageous and vital work carried out by their local Darwin River Volunteer Bushfire Brigade."
The Birds of Australia's Top End 2020 calendar which costs 18 each - plus postage Is available by contacting Denise Goodfellow directly phone 0438 650 835 or email goodfellow@bigpond.com. Payments can be made by either PayPal or cheque.
Related News
Gamba grass: Controlling the nightmare

Gamba grass (Andropogon gayanus) is a tall (4 metres high), multi-stemmed plant introduced to Australia in the 1930s as cattle fodder (Csurhes, 2005). The potential dan...
New bird book from 'ratbag of the north'

Variously described as an "NT Treasure" and a "ratbag of the north", eco-tour guide, passionate birder and former buffalo hunter Denise Lawungkurr Goodfellow has published a new bo...