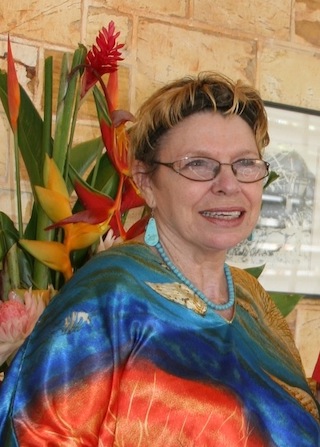 Denise GoodfellowNT residents are calling for urgent action to fight a fire-prone grass introduced to Australia as cattle food that's devastating native plants and animals in the Top End and threatening the lives of locals and tourists this Dry Season.
Gamba grass (Andropogon gayanus) is a tall African grass that the Australian cattle industry has embraced for its ability to support many more cattle than native pasture and its tolerance of tropical seasons. Gamba grass is highly flammable, growing in clumps as tall as four metres with stems as thick as bamboo.
Australian eco-tourism expert and long-time NT resident Denise Goodfellow describes the gamba grass infestations of the Top End as "verging on the catastrophic". "While the NT Government has put much effort into fighting gamba grass, we need to recognise that it's more than a nuisance weed – it is a disaster waiting to happen," she warns.
"I thought gamba grass was bad in the Darwin River area, but the Adelaide River/Batchelor infestation must be seen to be believed. What the hell is going to happen in the Adelaide River region come the late Dry? I'm beginning to think it suicidal to live in such areas. People - residents, tourists and firefighters - are at risk. Firefighters are saying they can't always defend landholders here because so many gamba-fuelled fires are uncontrollable, and that sooner or later people are going to die."

After widespread Top End trials of gamba grass as stock food in the late 1980s and 1990s and assurances that it could be safely contained, it quickly escaped into surrounding savannah woodlands and has spread through pastures, bushland, riverine systems and transport corridors, overwhelming native plants.
Gamba grass already occupies as much as 1.5 million hectares (ha) of the Northern Territory, with smaller outbreaks from Western Australia to Queensland. Each outbreak, even when consisting only of a few tussocks, can become a major infestation in less than five years. According to a 2018 NT Government report, gamba grass has the potential to invade as much as 38 million ha.
Landowners in the NT's Darwin River area are concerned that beyond devastating native flora and the animals that feed on them, gamba grass presents a massive fire risk during the dry season. Gamba-fuelled conflagrations generate thermal updrafts strong enough to form pyrocumulus - fireclouds - with tops that reach several kilometres into the sky, carrying the light gamba seed and spreading it over the countryside.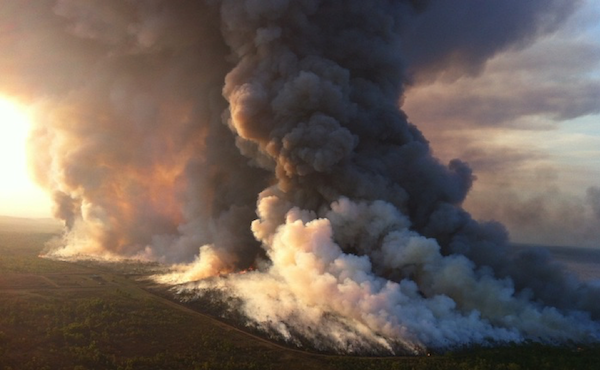 Gamba grass fire on Camp Creek station in October (courtesy of Bushfires NT)
To help combat the risk in her Darwin River area, Denise and her husband Michael have become up as volunteer firefighters as part of the area's small volunteer bushfire brigade, which has members including seniors and some people with disabilities.
Denise said firefighters, scientists and others, including herself, had warned of the dangers of gamba grass for years and, more recently, organisations including the US philanthropic group Pew Charitable Trusts and the NT Environment Centre. "Yet compared to cane toads, this 'triffid' of the plant world hardly makes a mark on the public psyche," she said.
Gamba grass fire on Camp Creek station in October © Bushfires NT
Denise, a birdwatching guide for 30 years, is a founding member of Ecotourism Australia, the author of several bird books, and has a PhD on the world's largest birdwatching tourism market. She said very little else could grow among gamba grass, including the seeding grasses so important to much native fauna. "While there are a few emergent trees, many of these will be killed when the wildfires begin," she said.
"As a result, areas badly infested with gamba grass have very little bird song. Iconic birds such as the Gouldian Finch are at risk of extinction because of gamba, as are many other species. Visitors need to avoid gamba grass because it is so easily spread, by seeds caught in mud from someone's car or blown into a vehicle or trapped in the folds of a backpack.
"While the NT Government has done a lot to fight gamba grass - indeed, they've done more than any other government – much more needs to be done to address this threat to locals, visitors and our tourism industry. For example, birdwatching tourism is a lucrative industry which the NT cannot afford to lose. Yet, visitors' lives could be at threat from gamba-fuelled fires. A fire even some distance away could be upon tourists in a matter of minutes, easily catching them unawares.
"While people in Darwin and elsewhere still believe that cane toads are more of a threat to biological diversity, that may change when little is left but gamba. Then again it may take the deaths of a family out camping or a few hitchhikers or a party of tourists for the danger to register."
For a referenced report on the threats of gamba grass, read Denise Goodfellow's article, Fighting Gamba, on The Fat Birder blog http://fatbirder.com/announcements/index.php?article=189.

To organise an interview with Denise Goodfellow, please call John Harris on 08 8431 4000 or email john@impress.com.au.
Related News
New bird book from 'ratbag of the north'

Variously described as an "NT Treasure" and a "ratbag of the north", eco-tour guide, passionate birder and former buffalo hunter Denise Lawungkurr Goodfellow has published a new bo...
Gamba grass: Controlling the nightmare

Gamba grass (Andropogon gayanus) is a tall (4 metres high), multi-stemmed plant introduced to Australia in the 1930s as cattle fodder (Csurhes, 2005). The potential dan...