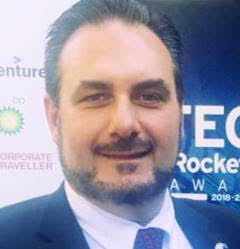 carbonTRACK founder & Managing Director Spiros LivadarasInnovative Australian energy retailer Mojo Power has chosen energy industry disrupter carbonTRACK to put carbonTRACK's intelligent energy management systems in the hands of its customers.
carbonTRACK https://carbontrack.com.au/ provides an 'always on' smart gateway for a house or business to remotely monitor and control electricity use, allowing smart home control, such as switching schedules, customisable alerts etc, through a smartphone. These tools will provide Mojo customers with a high level of control, thus potentially lowering costs, as well as enabling Mojo to provide a better service through Virtual Power Plant (VPP) functionality.
Sydney-based Mojo Power has signed a memorandum of understanding with carbonTRACK to deploy carbonTRACK's technology in a live deployment with targeted customers. carbonTRACK's system will equip Mojo customers to automatically turn off or defer intense energy usage during peak price periods. Once the benefits are proven, Mojo will deploy the system more widely for its customers.
Mojo Power Executive Director Commercial Adam MacDonald said the partnership with carbonTRACK delivered on Mojo's commitment to give its customers access and control of transparently priced and affordable energy. "This is an exciting move for Mojo Power in building out our offerings of smart tools for residential and business customers," he said.
"We want our customers to enjoy simple plans, clear and accurate bills and access their electricity usage data if they choose to. carbonTRACK provides us with smart tools that give our customers the visibility to track and automatically manage their electricity usage."
carbonTRACK Managing Director Spiros Livadaras said Mojo Power's decision demonstrated the benefits offered by carbonTRACK's technology for innovative energy companies. "We are extremely pleased to be working with Mojo," he said. "Mojo is an innovative Australian electricity retailer that's disrupting the status quo, so we are proud that our technology will help their customers both improve their quality of life and save money."
Benefits of carbonTRACK's Intelligent Energy Management systems include demand-side management; peak shaving; storage integration; and Virtual Power Plants. carbonTRACK's Demand Response, Frequency Regulation, Virtual Energy Trading and Grid Resiliency solutions deliver the full Virtual Power Plant (VPP) value chain to Utilities & Transmission System Operators, System Operators & Energy Traders, Financiers, Solar Sales Teams and Solar Hardware Manufacturers.
For media assistance, contact:
Isabella Bassanelli
Marketing Manager, carbonTRACK
E: isabellab@carbontrack.com.au
Christine Murphy
Marketing Manager, Mojo Power
E: cmurphy@mojopower.com
About carbonTRACK https://carbontrack.com.au/
carbonTRACK's technology delivers the intelligent energy management systems that facilitate embedded networks, Virtual Power Plants and smart grids, enabling individuals, communities, businesses and countries to harness legacy and renewable energy and harvest the benefits.
About Mojo Power www.mojopower.com.au
Mojo Power is an innovative electricity retailer, changing the way people think about energy. We employ technology and renewable energy to deliver low cost, simple plans. Mojo Power has a strong presence in both the business and residential sectors.