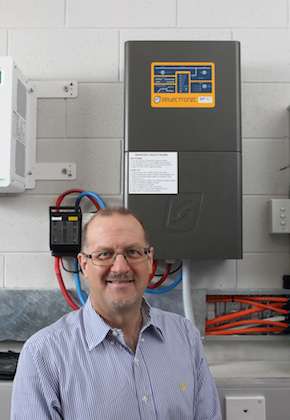 Redflow CEO Simon HackettAustralian battery company Redflow Ltd today announces that its new ZCell battery is compatible with the SP PRO battery inverter from Melbourne-based electronics manufacturer Selectronic Australia.
ZCell is a 10 kilowatt hour (kWh) zinc-bromine flow battery that can 'timeshift' solar power from day to night, store off-peak power for peak demand periods and support off-grid systems. Redflow last month announced its first ZCell installers, providing national coverage for quoting and installing ZCell-based energy storage systems.
Redflow undertook extensive testing of the Selectronic SP PRO battery inverter at its Adelaide battery integration and testing lab to ensure it works with ZCell, a process simplified by the purpose-built ZCell battery management system (BMS).
Selectronic is a 52-year-old Australian company that designs and manufactures battery inverters which are sold in Australia, Asia, Africa, Europe and South America. The SP PRO is a smart multi-mode inverter that suits both off-grid and solar hybrid (grid-connect) installations for residential, commercial and industrial projects.
Selectronic CEO Rod Scott welcomed the news of the SP PRO compatibility with ZCell. "ZCell is a unique battery from a capacity point of view, recycling and longevity," he said. 'We see a good fit between our reliable long-lasting battery inverters and ZCell."
Redflow CEO Simon Hackett said Selectronic was a very popular battery inverter among its installers. "The SP PRO is a wonderfully flexible inverter that can be configured to fit any energy storage requirement, whether on or off-grid, across residential or commercial applications," he said. "Selectronic is a much loved product in the Australian energy storage industry and we are delighted to certify that the SP PRO works with ZCell."
Both Selectronic and Redflow will display their latest products at this week's All-Energy 2016 Exhibition in the Melbourne Convention and Entertainment Centre on Tuesday, October 4, and Wednesday, October 5.
For Redflow media assistance, call John Harris on +61 414 789 995 or email john@impress.com.au.
About Redflow www.redflow.com
Redflow Limited is an energy storage specialist that has developed the world's smallest flow batteries. Redflow's unique flow batteries are designed for stationary energy storage applications ranging from its ZCell home battery to its ZBM battery range for commercial, telecommunications and grid-scale deployment. Redflow is a publicly-listed company (ASX: RFX) that operates R&D facilities in Australia, as well as offices in the US and Europe. Produced in North America by Flex, one of the world's largest supply chain solution companies, Redflow's high energy density batteries are sold, installed and maintained by a global network of system integrators.
About Selectronic Australia http://www.selectronic.com.au/
Founded in 1964 by the Scott family, Selectronic Australia quickly established itself as a major manufacturer of custom made transformers and inductors for the local electronics industry. In 1981 the company's electronics products division was established to meet a need for quality power conversion products in the emerging renewable energy market. Selectronic Australia has grown through a philosophy of providing products and solutions that focus on customer needs and today this second generation family company manufactures a world class range of highly innovative and functional interactive inverters. Using advanced technologies, Selectronic Australia's products form the heart of efficient, cost effective storage based renewable energy systems including Solar Hybrid and Off Grid systems.
Related News
Redflow cashes up to target demand areas

Redflow Executive Chairman and CEO Simon Hackett with ZCellAustralian battery company Redflow Limited today unveiled an investment package that will raise $14.5 million to tar...