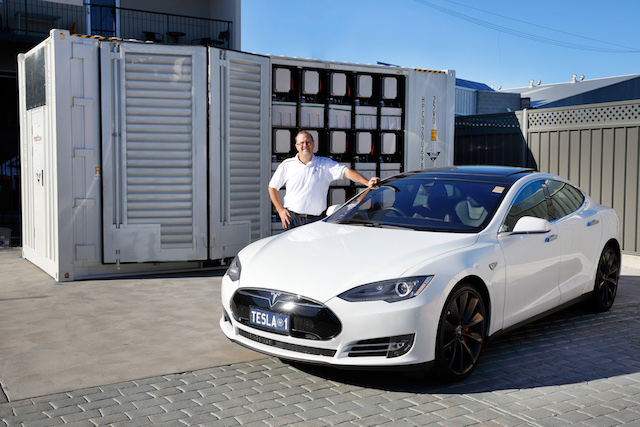 Technology entrepreneur Simon Hackett has installed a Redflow LSB energy storage system at his Adelaide office, Base64, guaranteeing at least four days of continuous energy supply.
Base64's LSB (Large Scale Battery) contains 60 ZBM flow batteries in a 20ft shipping container form-factor, which can deliver 660 kilowatt hours (kWh) of energy in a full discharge cycle. The LSB can be charged from solar and store more than four days of the typical energy requirements of the 2777-square-metre Kent Town property - a multi-tenanted facility routinely occupied by more than 50 people - significantly reducing Base64's need for grid energy and associated carbon emissions.
Mr. Hackett, who is Executive Chairman of Redflow Limited (ASX:RFX), said the LSB would store energy harvested from Base64's existing array of 80 PV solar panels. "It will provide us with an enormous degree of energy independence," he said.
"The Base64 energy system already has 20 kilowatts (kW) of solar PV capacity, with another 50 kW coming online later this year. The LSB lets us time-shift that energy to when we need it, making us largely self-sufficient in energy production and consumption once our extra solar capacity is installed.
"This is also an important milestone for Redflow. As well as storing and supplying energy for Base64, this LSB showcases Redflow's grid-scale energy storage solution and its capacity to work with renewable energy generation systems."
The LSB allows Mr. Hackett, Australia's number one customer for Tesla electric cars, to charge his Tesla Model S with solar-generated energy from Redflow batteries.
The successful commissioning of the LSB at Base64 follows the company's launch of its ZCell residential battery in Australia. Redflow's unique flow batteries now cover the entire range of stationary energy storage requirements, from home and business installations to telecommunications and grid-scale deployments.
Base64's LSB, worth about $730,000 (US$550,000) was delivered fully assembled. Commissioning took place over the following week, including integration with an ABB PCS 100 inverter system, which interfaced into Base64's three-phase energy feed.
The LSB can deliver a 200 kW continuous energy output rate, with a 300kW peak, and includes full system control and monitoring hardware within the unit. The low-maintenance design with 24/7 remote monitoring, does not require air-conditioning, fire alarms or a fire suppression system as Redflow batteries contain an electrolyte that is naturally fire retardant.
Redflow, which partners with global supply chain solutions powerhouse Flex, has arranged for future production of LSBs to come from a Flex manufacturing facility in South Carolina, USA. Flex already manufactures the Redflow ZBM battery range in North America.
For media assistance, please call John Harris on +61 8 8431 4000 or email john@impress.com.au
About Redflow www.redflow.com
Redflow Limited is an energy storage specialist that has developed the world's smallest flow batteries. Redflow's unique flow batteries are designed for stationary energy storage applications ranging from its ZCell home battery to its ZBM battery range for commercial, telecommunications and grid-scale deployment. Redflow is a publicly-listed company (ASX: RFX) that operates R&D facilities in Australia, as well as offices in the US and Europe. Produced in North America by Flex, one of the world's largest supply chain solution companies, Redflow's high energy density batteries are sold, installed and maintained by a global network of system integrators.