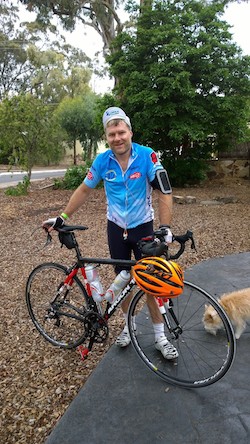 Small business tech guru Dean Calvert cast off networks for sweatworks last weekend in a 115km charity bike ride in which he raised more than $2300 for The Smith Family Foundation.
Dean, the founder of Adelaide-based Calvert Technologies, is an internationally recognised expert in delivering computer networks and on-demand services for small businesses nationwide.
On Sunday, March 23, Dean embarked on his longest ride ever, a gruelling 161km ride, to participate in the Boileau VeloAdelaide event, which traverses the Adelaide plains and the Adelaide Hills. He even rode his bike from home to the race start line and back afterwards!
The Smith Family is a children's charity that helps disadvantaged Australian children to get the most out of their education, so they can create better futures for themselves.
Dean said knowing that one in 10 Aussie kids lived in disadvantage motivated his ride. "The ride was tough, but certainly worth the effort to raise money to help struggling Aussie kids," he said.
"This is something we can do together to help the amazing Smith Family continue their work to break the cycle of disadvantage and help these kids create better futures for themselves."
To see a full list of Dean's sponsors and their comments, or to contribute to help Dean achieve his fundraising goal of $3000, visit http://mountloftyfundraising.com.au/?DeanCalvert