Accelerated
About Accelerated – A Digi International Company
Accelerated Concepts, Inc. now a Digi International company, is a leading provider of enterprise wireless cellular network data hardware and services. Our solutions are used today in Fortune 500 companies and major Tier 1 telecommunications service providers. Founded in 2006 in Tampa, Florida, Accelerated Concepts, Inc. has offices in Tampa, Florida; Chicago, Illinois; and Brisbane, Australia.
For media assistance in Australia and New Zealand, including requests for interviews and images , call John Harris on +61 8 8431 4000 or email john@impress.com.au.
Details

In Accelerated

/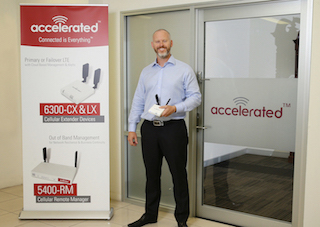 Accelerated Concepts managing director Matt RamsayBrisbane-based Accelerated Concepts has appointed Melbourne's NPS (Network Professional Services) as a master reseller to speed up sales of its Australian-designed 4G failover routers.
Designed by an engineering team based in Brisbane, Accelerated routers use an embedded, carrier-certified cellular modem to provide Internet access via 4G LTE and 3G cellular wireless data networks when primary access fails. The devices are sold globally by US-based Accelerated Concepts Inc. In Australia, they are available through https://www.acau.com.au/.
With a long background in routing products, Richmond-based NPS employs network engineers with experience from SME to enterprise service and sales staff familiar with channel sales in Australia and New Zealand. NPS already partners with CrowdStrike, BeyondTrust and Okta.
Details

In Accelerated

/
A smart technology team in Brisbane that has designed a range of successful telecommunications products for US corporation Accelerated Concepts Inc. is now stepping out of its parent's shadow
Established 10 years ago, Accelerated is an innovator in global cellular, cloud and network communications with industry-leading hardware and software solutions that expand primary and failover data connectivity and management capabilities.
A little known fact is that for years, key product development initiatives for Accelerated in the US have come from its Australian subsidiary, a nine-person office based in the Brisbane suburb of Rocklea.
During the past year, under the leadership of Managing Director Matt Ramsay, the Australian operation has established itself as Accelerated Concepts Pty Ltd, registered for Australia Research and Development incentives and started developing a reseller channel in Australia and New Zealand. "My goal is start paying tax in Australia by growing the company from a cost centre to a profit centre for Accelerated," said Matt. "There are plenty of opportunities in Australia, but our US parent has had its hands full handling growth in North America for the past few years. My role is to focus on developing our markets in Australia and New Zealand."